Theros Beyond Death Fresh new decks
Theros Beyond Death brings in a lot of interesting cards to the Standard pool. While some prefer waiting for the next tourney lists to see what to play, the early days after a new set gets released are the brewer's paradise. Today we will look at decks made by content creators for the streaming event where hundreds of Twitch streamers participate to show off the new set.
Therealkilladub
Starting off with Therealkilladub who consistently has top placements in the Mythic ladder and spends a lot of time brewing and also streams on Twitch.tv and is part of the Team Aether streaming Team. He has come up with some really solid decklists that he wants to share with you all. I am in particular excited to play his Kroxa, Titan of Death's Hunger
which I requested a build for, he had a different take on it than I expected.
This is KillaDubs take on Bant Flash utilizing Flicker of Fate
to get extra ETB triggers from Frilled Mystic
and Angel of Grace
. Flicker is also pretty decent at saving Nightpack Ambusher
from removal. Flash is a very solid strategy because it enables you to play reactively. For instance, if your opponent decides to try and play around your counterspells by being patient and waiting for an opening. Then you just flash in threats such as Brazen Borrower
, Nightpack Ambusher
, or Angel of Grace
at their end step. Also Frilled Mystic
is a great 2 for 1 by not only providing a body to attack and block with but also by countering your opponent's spell. This deck literally gives you 9 lives with 4 Angel of Grace and 4 Flicker of Fate.
Control is back and this time it is Ashiok flavored with cards like and Ashiok's Erasure
and Ashiok, Nightmare Muse
, we have a mix of other new cards with Thassa's Intervention
and hand disruption like Agonizing Remorse
. Do not forget the new premium removal with art that sends shivers down our spines Eat to Extinction
.
KillaDub loves blue so much you could say that he is devoted to blue. The next deck takes this devotion to the next level by trying to make it the win-con! While you could end the game by stealing your opponent's good cards and killing them with Mass Manipulation
or, Agent of Treachery
the way you want to win is with Thassa's Oracle
. I can't wait to tap the Nyx Lotus
and see how much mana I will be able to generate.
This deck is just pure evil. The premise is to make the opponent discard all of their cards, and then watch them suffer while Davriel, Rogue Shadowmage
tortures them during their upkeep. Any creatures or planeswalkers to hit the board on your opponent's side of the field are likely to get destroyed by Ritual of Soot
or Murderous Rider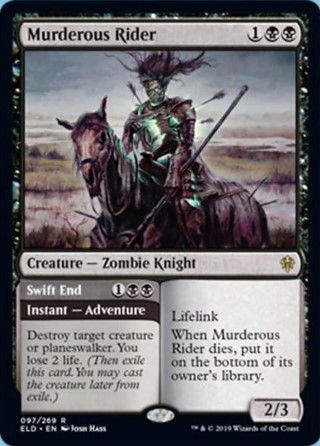 . If they still have any cards in hand, or creatures/planeswalkers on turn 5, then Nicol Bolas
will finish the job.