May 29 Banned and Restricted MTG Leak Is FAKE.
Banlist News
Wizards of the Coast have been announcing significant changes to the Standard format. First, rotation was changed from every two years to every three. Then, they changed to a one-year ban system, where the vast majority of all bans happen will happen along with the Fall release. All of these changes culminated in a highly anticipated banned and restricted announcement set for May 29th, which was thought to have been leaked yesterday.
However, a few hours ago, it was proven that the banned and restricted leak was fake. A Reddit user has admitted to creating the fake list and even gave their reasoning for doing so. This makes the situation unique. Before we get into their fake list, admission of guilt, and the reason behind the ruse, I want to give one final disclaimer that the leaks below are 100% fake.
Admission Of Guilt For Faking The Leaks

It was suspected that the leaks might not be official when they started making their way around the internet. That has now been confirmed, and the culprit has surfaced and spoken out about what they did and why. You can see their post here: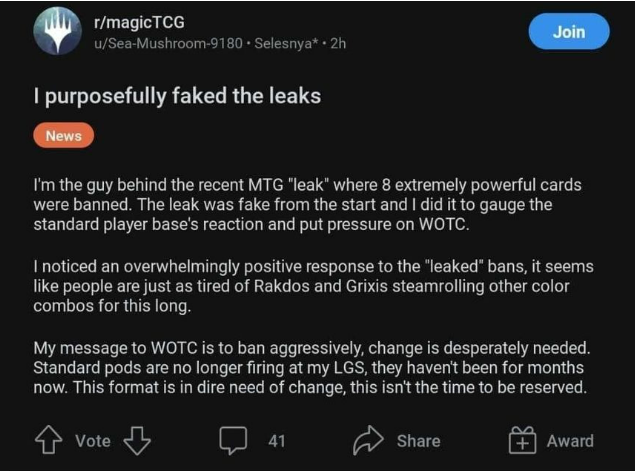 Fake Banned And Restricted Leaks
Fable of the Mirror-Breaker
Reckoner Bankbuster
...diversify the meta more. (Text was cut off.)
Atraxa, Grand Unifier
Wedding Announcement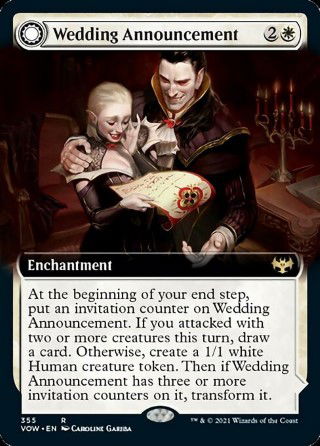 You May Also Like: Days N Daze' Jesse Sendejas Interview: Magic: The Gathering, New Music, & More
The Wandering Emperor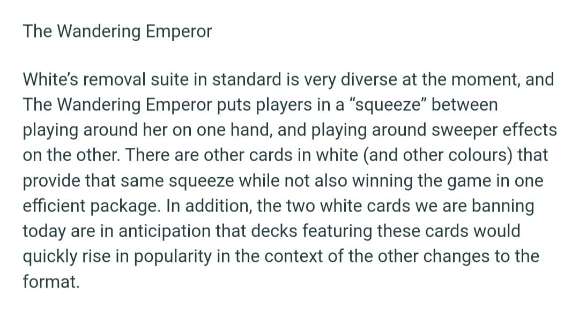 Invoke Despair
Raffine, Scheming Seer
Plaza of Heroes
End Step
This is a fascinating set of circumstances - As the user said, the response to the fake bannings has been pretty overwhelmingly positive from what I've seen. So, this puts WOTC in an interesting spot if their bans are way different than these, which they probably will be. I don't think Wizards will change their actual bans to align with these, but you have to believe they'll consider the community's reaction in one way or another.