The Best Phyrexia: All Will Be One Bombs in Limited
Limited
Phyrexia: All Will Be One sure had a very interesting mix of cards that require experimentation to actually get a good feel of the set mechanics' practicality. For Limited, it becomes a very stacked list, but this article should hopefully give you a very quick rundown on the best picks for your upcoming Limited format games.
Tier 1 Bombs
Pretty much an obligatory pick to immediately buff your deck or determine your color identity. They are primary build arounds if you ever get one, with at least two more of their complementary components on hand.


Twilight Cycle Cards (White, Blue, Black)
Rarity: Rare
These three Twilight cycle cards represent very efficient effects for what you can potentially pay with them for the second effect. Even then, if strategically appropriate, they can still provide enough value that is reasonable to pay a little bit lower. Green and Red, unfortunately, do not share this level of usability.


Thrun, Breaker of Silence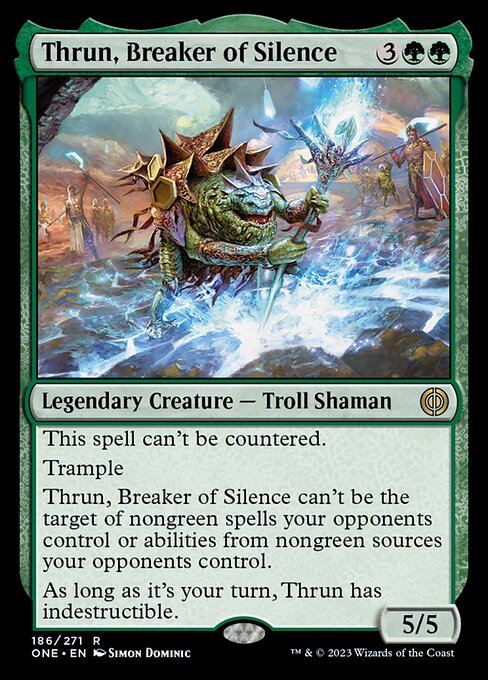 Rarity: Rare
Thrun continues his legacy as the ever nigh-unstoppable green signature card that he once was. He is somewhat nerfed with green interactibility and active-turn-only indestructible. But you still get way more for what you pay to get him on the field. Definitely a pick when he randomly shows up.


Tyrranax Rex
Rarity: Mythic Rare
Quite less effective than Thrun, as the game is almost done when this thing manages to show up (or you're already dead). But, it is a wonderful instant finisher in an impending stalemate because it guarantees damage and poison counters the turn it drops no matter what.


Sword of Forge and Frontier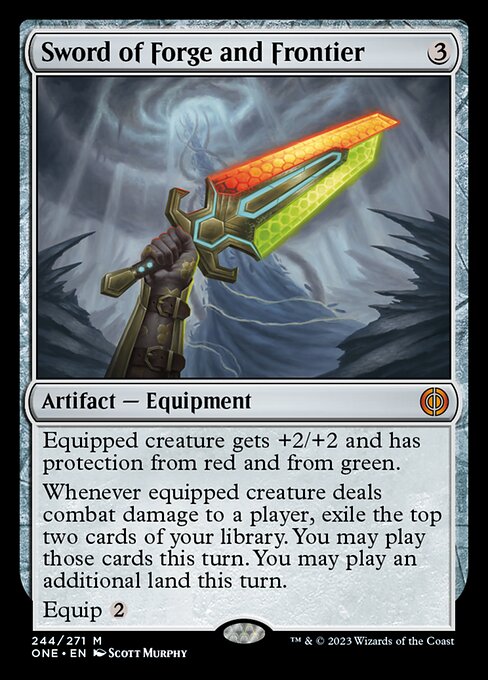 Rarity: Mythic Rare
Definitely looks significantly less powerful than the ones before it, but nevertheless still a very formidable equipment that gains a lot of advantages. For one thing, both its trigger effects complement each other very well, akin to Sword of Truth and Justice
, and will never miss no matter what the board state is (the exiling part at least).


Kaito, Dancing Shadow
Rarity: Rare
A very versatile planeswalker that has built-in options to ensure that his passive works most of the time. If it does, and you successfully return an ETB creature card in exchange for another loyalty ability activation, then that is already an immediate 2-for-1! In a lot of cases, even in a situation where he dies immediately next turn, he already provided the value necessary to keep up your own play tempo.


Lukka, Bound to Ruin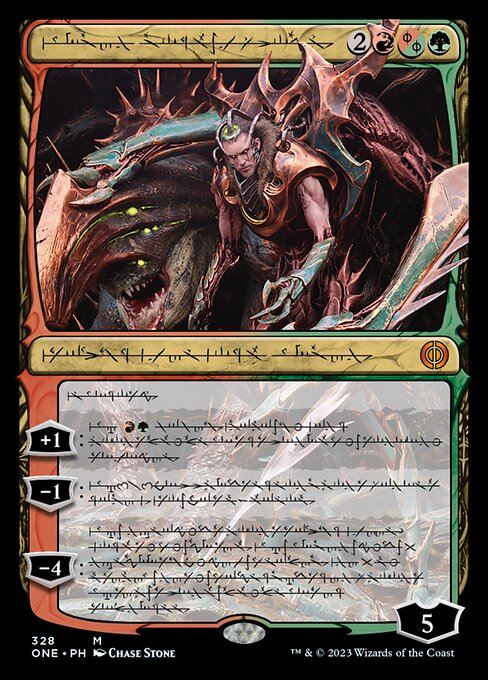 Rarity: Mythic Rare
First, he has casting versatility via Compleated. Second, putting a 3/3 token into play at just -1 is super efficient, with a Toxic 1 bonus to boot. Lastly, his ultimate is instantly usable the moment he drops regardless of paid mana, even if it does require checking for stats (when it activates, not resolves). Oh, and he can also ramp too.


Nissa, Ascended Animist
Rarity: Mythic Rare
She is very much a super modal planeswalker casting-cost-wise. Using her +1, you have all the options of casting a Phyrexian Horror creature token at either 8/8, 6/6, or 4/4. You also get immediate access her ultimate if you manually pay her entire casting cost. The added Disenchant
is also nice, given the appropriate situation.


Vraska, Betrayal's Sting
Rarity: Mythic Rare
Her +0 is effectively a +1, on every counter that you own in the field. So adding a draw effect just makes it all the more powerful. Her -2 isn't exactly 3/3 Elk-tier, but it is close enough, also shutting down key effects without triggering lingering advantages. Lastly, if you can pop her ultimate, you just win the game by hitting any free Proliferate or poison counter effect. All that, for a very reasonable price of either six mana, or five (plus 2 life).


The Eternal Wanderer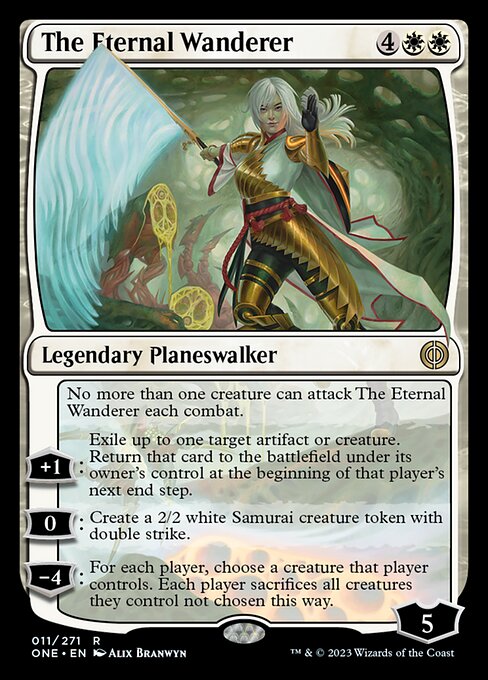 Rarity: Mythic Rare
Built-in battlefield deleting capability, powered by passive protection that prevent a mass of attackers from singling her out. Her blink effect strategically puts any biggest threat into a limbo almost indefinitely. Casting cost is also very manageable, and her improved Samurai tokens provide even more versatility for both offense and defense. Very much possibly the best bomb ever in Limited.


Tier 2 Bombs
These cards greatly complement the theme you are already aiming for, or any appropriate combos you already have. Although, you can also consider building up on these instead if they happen to swing your way a bit more.
Mondrak, Glory Dominus (Mythic Rare) - give already-efficient token generators even more value
Tekuthal, Inquiry Dominus (Mythic Rare) - doubling Proliferate is also very good. Very cheap indestructible counter cost
Zopandrel, Hunger Dominus (Mythic Rare) - game is as good as finished already if this drops and not interacted with immediately.
Unctus, Grand Metatect (Rare) - a truly evolved Grand Architect that seeks to influence all you control with a Lord effect and looting.
Glissa Sunslayer (Rare) - yep, no creature will be winning battles with her. Then again, are you really willing to take her damage?
Kaya, Intangible Slayer (Rare) - another very well-guarded planeswalker generating cumulative advantages. Cost does feel steep though.
Migloz, Maze Crusher (Rare) - another super modal card hiding in an efficient 3-cost 4/4 body. Plus its counters can be used somewhere else.
Ovika, Enigma Goliath (Rare) - another creature with a steep cost. But if you can pay for it, then it can generate far more than your investment.
Venser, Corpse Puppet (Rare) - requires a more specific build around, but it provides complementary advantages at only two mana.
Phyrexian Obliterator (Mythic Rare) - pretty much locks you to one color. But your opponents will definitely be in pain with it just on field.
Phyrexian Vindicator (Mythic Rare) - the white version. Same deck build limitations, somewhat same pain, but without the same "protections".
Elesh Norn, Mother of Machines (Mythic Rare) - same Vigilant 4/7 body, but this time just requires five mana. Locks down your opponent's ETB triggers while doubling yours for massive advantage gain. Might result in salty games.


Tier 3 "Bombs"
Here's the rest of the other high-pick cards in Limited:
Common Bombs
These are the best commons that should be an easy/instant pick if color appropriate:
For the complete list with individual ratings and explanations, check out our Phyrexia: All Will Be One Limited Ratings page.
About ChrisCee:
A witness since the time the benevolent silver planeswalker first left Dominaria, ChrisCee has since went back and forth on a number of plane-shattering incidents to oversee the current state of the Multiverse.
"Target bird is no longer available. Please leave a message after the last bounce."