Five Powerful Arena Standard Decks For The Current WOE Meta
Genoslugcs
September 9, 2023
5 min
Wilds of Eldraine was released in paper yesterday, and players are getting their hands on the cards they want to build around. There are a lot of exciting cards in the set, and I think many different formats got some nice playable cards. That said, a new set doesn't (usually) shake up other formats quite like it does Standard. I want to showcase five powerful Wilds of Eldraine Arena decks in today's article. So, let's jump right in.
Wilds Of Eldraine Arena Standard Decks
Some decks below have raw power; others have crafty interactions and control the tempo. Others give familiar color combinations some unfamiliar tools. If you want to play interesting, powerful Wilds of Eldraine standard decks, you're in the right place, and WOE has something for everyone.
All decklists were built by the streamers from the gameplay videos.
Rakdos... Ramp?
Gameplay Video - Here
Rakdos aren't the colors that come to mind when you think of getting ahead on mana. And yet, this list has eight cards at the two drop slot that ramp you right into your four mana spells, like Sheoldred, the Apocalypse, Big Score
, & Decadent Dragon
. And get to even bigger spells like Ashiok, Wicked Manipulator
, Chandra, Hope's Beacon
, & Virtue of Persistence
.
Aside from slamming beefy creatures a turn early, there's some cool tech here. For example, the new card Expensive Taste
allows you to cast opposing cards for the rest of the game, which is fantastic. And the deck has many ways to produce treasures that can make the colors you need to cast them, as well as the +2 of Chandra, Hope's Beacon
, so casting them isn't too hard.
Speaking of Chandra, her static ability works great alongside Locthwain's Scorm, Big Score
, Cut Down
, & Go for the Throat
. The card draw from Big Score is doubly good to copy when you have a Sheoldred, the Apocalypse in play, as you'll get four triggers.
Lastly, the adventure cards in the deck (as well as the exile on Expensive Taste
) do an excellent job of giving you ways to pump up the nightmare tokens that you can make with Ahiok. While Virtue of Persistence
at the top of the curve is a grindy card that can recur your threats and that the dimir decks at the top of the meta have difficulty answering once it's hit the table.
Dimir Faeries
Gameplay Video - Here
Faeries are a force to be reckoned with thanks to Wilds of Eldraine. The deck is disruptive, aggressive, and packed with tempo plays. Many of the cards in the deck work (or get better) when you have faeries in play, and Sleep-Cursed Faerie
is the key to turning them on early. It's a one-mana 3/3 that can't attack for a few turns, but it does enable Ego Drain
and Faerie Fencing
beautifully. And it usually sticks around to be a later-game threat, thanks to the ward.
Likeness Looter
is nasty alongside Sleep-Cursed Faerie, as you can pay a single mana into the x ability and turn it into a 3/3 with flying and ward, and it won't have the stun counters to hold it back! Faerie Mastermind
is an all-star that draws you cards, and Obyra, Dreaming Duelist
drains your opponents as you play out your creatures.
You May Also Like: What Number Should You Choose With Talion, the Kindly Lord - EDH, Modern, & More
Higher up on the curve, the deck plays Talion, the Kindly Lord
and Horned Loch-Whale
, which isn't a faerie but is a powerful closer. Talion punishes opponents as they cast their spells and rewards you with card draw while being an evasive threat in the air.
Three Blind Mice Combo
Gameplay Video - Here
If you're a Johnny with a thirst for combo, Wilds of Eldraine has you covered, even for MTG Arena. What's the combo? Three Blind Mice
is. Let me show you how it works. Chapters two and three are the key to going off here. First, you'll need to get a copy of Three Blind Mice into your graveyard. This can happen naturally by going through all the chapters or by milling yourself with Jace, the Perfected Mind.
Once you have a copy in the bin, you target it with the -x ability of Tamiyo, Compleated Sage
and create a token copy of the saga. Perhaps you see where this is going - Once your copy reaches the second chapter, it can copy itself since it is a token. Not only will this churn out 1/1 tokens, but each additional Three Blind Mice can target another for chapters two and three, which snowballs out of control quickly.
Your army of Mice is quite formidable once you're set-up, and the sagas start hitting the fourth chapter(s). You can even rebuild in a single turn if your board gets wiped out by a Gix's Command
. The rest of the deck is there to make sure you stay alive long enough to get the combo going. So, you have Elspeth's Spite, Fateful Absence
, Soul Partition
, Make Disappear
, The Wandering Emperor
, Depopulate
, and Sunfall
.
Golgari Lifegain
Gameplay Video - Here
Gumdrop Poisoner
is the bread & butter payoff in this build and enables a really grindy midrange strategy. The more life you've gained when she enters the battlefield, the more she'll minus an opposing creature. So, if you cast Gala Greeters
on turn two and Gumdrop on three, you'll be set up for a -2/-2, which is pretty great value stapled onto a 3/2 with lifelink. And the ability makes Cut Down
even better than usual since it sees the p/t as reduced.
You May Also Like: LOTR Scene Bundle Spoilers Reveal Extremely Powerful New Cards
There's also Life of Toshiro Umezawa // Memory of Toshiro
, Heywire Mite, and everyone's favorite card, Sheoldred, the Apocalypse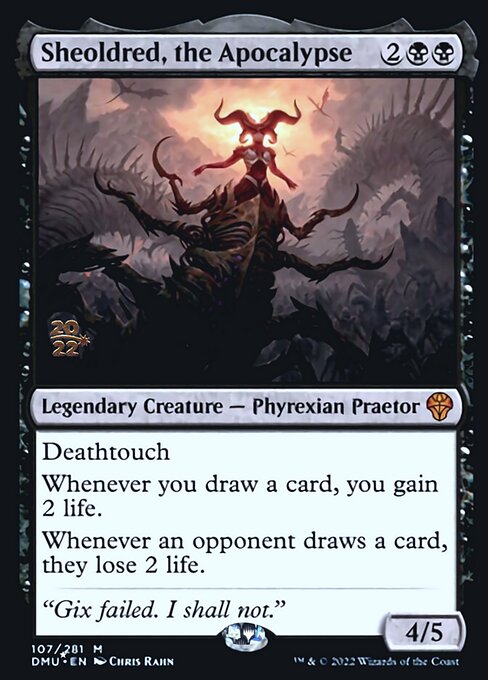 , to gain you life and get you triggers. The deck also has the privilege of playing Beseech the Mirror
and can Bargain (casting a free Shelly or Sorin the Mirthless easily - Heywire Mite is an artifact, after all, and will gain two when you sacrifice it. While that's the number one choice, Life of Toshiro Umezawa // Memory of Toshiro
or food tokens also work.
Virtue of Persistence
will likely become a staple of black-based mid-range strategies in Standard, and this deck isn't missing a chance to play it. Of course, it can reanimate essential creatures later in the game, but the adventure portion is handy in a deck that cares about lifegain triggers. So, yeah, gaining two on a removal spell, that also recurs the finishers is right where you want to be here.
Azorious Whale Control
Gameplay Video - Here