Best M20 decks Meta summary Week 2
Heading into week number two of the M20 meta and we see some new decks popping up. The first weeks of a new set are always the most exciting. Let's take a look at the new decks!
The Standard Metagame summary looks at all decks 45 days and newer. While the top metagame deck Bant Ramp did really good during the release week, most of those lists are pre-M20! During the next weeks, we will start to see the true meta kings climb to the top, while the old lists start to fall out.
If you want to have a look at all the Standard Tournament lists for this weekend directly, you can do so here:
MagicFest Denver
SCG Team Constructed Open Standard - Philadelphia
Metagame summary
Since we did not see any new Bant Ramp decks this week, we will not talk much about it. It is a deck from pre-M20 and is still a solid choice. Let's jump over to some new stuff!
Luis-Scott Vargas took first place with his Bant Scapeshift in MagicFest Denver, his and the 8 other Scapeshift decks all are from top 16 placements this week alone! Take a look at the card summary in the MetaHub and we see that the there is a general agreement on what to include in the deck. It looks like a great meta call for the current meta, who would have thought we would see a Scapeshift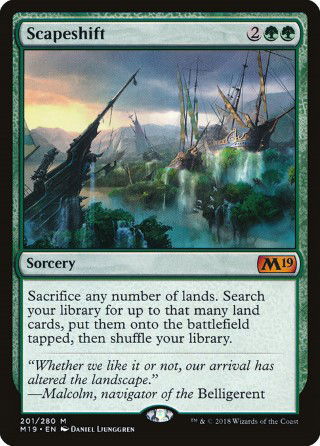 deck in the M20 Standard. It remains to see how the meta will adapt to this.
The Orzhov Vampires gained some more traction this weekend with 4 more decks in the weekend tourneys, adding to the 5 earlier decks. Has it completely taken over for mono-red in Standard or will it retake the throne come the next weeks? In Best of 1 in MTG Arena Mono-red is still running rampant. WB Vampires at its core consist of playsets of Knight of the Ebon Legion
, Legion Lieutenant
,Champion of Dusk
,Adanto Vanguard
and Sorin, Imperious Bloodlord
. The rest of the decks have a variety of cards, if you want to look at these stats in detail, you can find them here.