Wilds of Eldraine - Commander Precons Revealed
Genoslugcs
June 3, 2023
1 min
Nowadays, every MTG release comes with preconstructed commander decks as part of the product line-up, and Wilds of Eldraine is no exception. Despite the set being quite far from release, we recently got our first looks at the decks. The decks were added for pre-order on Amazon, and we now know the deck names and color identities and have enough info to deduce a general game plan. So, without further ado, let's look at everything we know so far about the Wilds of Eldraine Commander Precons.
Wilds of Eldraine - Commander Precons
Virtue And Valor
Colors: Green & White
Commander: Unknown
Theme: Buffing Your Creatures & Smashing Your Foes
You May Also Like: Doctor Who Commander Precons - Here's What You Need To Know
Fae Dominion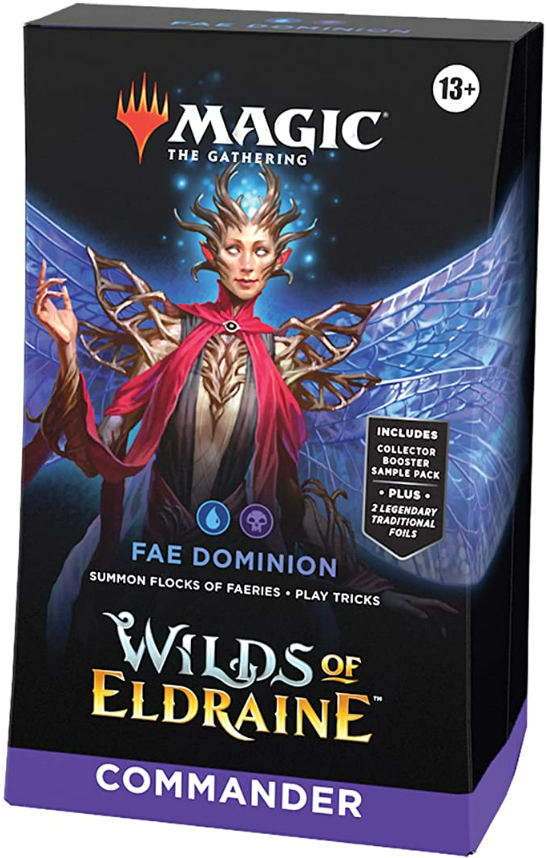 Colors: Blue & Black
Commander: Unknown
Theme: Summoning Faeries And Playing Tricks
Conclusion
There isn't much info for these currently available, but we're still far away from release. I might be surprised if new information dropping for sets months in advance wasn't the norm these days. I hope you've enjoyed looking at the names of the Wilds of Eldraine Commander Precons, their color identity, and a very loose idea of their themes. Until next time, get out there and play some MTG.