Wizards has updated the Banlist today, so let's take a quick look at the announcement!
Brawl
Drannith Magistrate
is banned.
Winota, Joiner of Forces
is banned.
Legacy
Lurrus of the Dream Den is banned.
Zirda, the Dawnwaker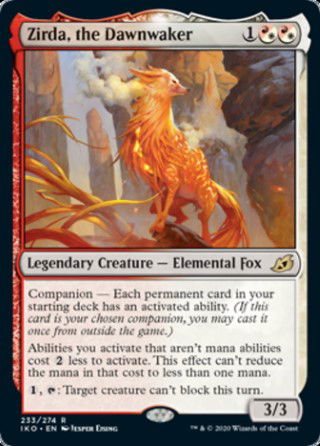 is banned.
Vintage
Lurrus of the Dream Den is banned.
What Does This Mean?
We previously speculated on what could be banned here. Every single one of our predictions was correct, although we missed out on Winota. The big surprise in this announcement is that Wizards did not outright ban Companions in any of it's formats. Wizards has acknowledged the threat of Companions, but say that they are taking a wait-and-see approach with it.
As previously speculated, Lurrus was taking up a lot of the Vintage metagame share and it was a card you could slot into most decks for free. In addition, Wizards could not restrict this card as it was already being played as a 1-of in the Companion spot. Therefore, the unprecedented banning of Lurrus is well deserved.
For similar reasons, Lurrus got banned out of Legacy. Wizards also went a step further and banned Zirda, believing that was going to be the next problem, similar to how Dig Through Time
was banned alongside Treasure Cruise
in Modern.
Drannith Magistrate was banned out of Brawl since it prevented players from casting their commanders. The surprise is the banning of Winota. However, according to Wizards, Winota has a really high win rate in Brawl and I believe that players are sick of seeing Winota, who is being played a lot in the Standard.
Wizards also stated in their update that they are watching Standard, Pioneer, and Modern and "[needs] to see the metagame come closer to an equilibrium state." They have also stated that they are open to changing the way that Companion works.
What are your thoughts on the Banlist update? Do you think Wizards should've acted on Standard, Pioneer and Modern as well?
About Kagros:
Aether Hub News Team member. Writing thoughts on Magic news and fun gameplay!