MTG Valentine's Day Gift Guide
Guide Information
Valentines's Day is nearly upon us and many of us are starting to think of what to gift our special someone. If that someone is an MTG player perhaps you've considered a Magic-related gift for them. Or maybe you are the magic player and want to gift your significant other into your favorite hobby so it can be enjoyed together. If Magic: The Gathering is on your radar for Valentine's Day, I've got you covered.

I'll be going over my top pickups for products to buy as well as some more specialized and even homemade gift ideas for the more creative readers. So, let's jump right into the MTG Valentine's Day Gift Guide.
Phyrexia: All Will Be One - Complete Bundle
There are quite a few things that make this an awesome gift for the MTG player in your life that completes you. First, this is a super safe gift if you're not familiar with the game and don't know specifically what format or cards your partner plays. It comes with a variety of sweet stuff from Magic's newest set.
Secondly, it includes exclusive special treatments that can't be gotten anywhere else. Including stunning basic lands that any player can slot into their deck and enjoy. The complete bundle really is the ultimate gift bundle for any fan of the game. Here's a list of the contents.
1 Compleat Edition booster
12 Phyrexia: All Will Be One Set Boosters
40 foil land cards
1 foil promo card (rare)
Compleat Bundle-exclusive foil card box
1 special foil-like cardboard storage box
Phyrexia: All Will Be One - Set Boosters
If you have ever seen your S.O. get excited about opening packs of cards, this will be something they'll enjoy. Set Boosters are specifically designed to be fun to open. Each pack is filled with multiple rares or mythic rares and is a blast to crack open. And again, Phyrexia: All Will Be One is the newest set so there's quite a bit of hype for it at the moment.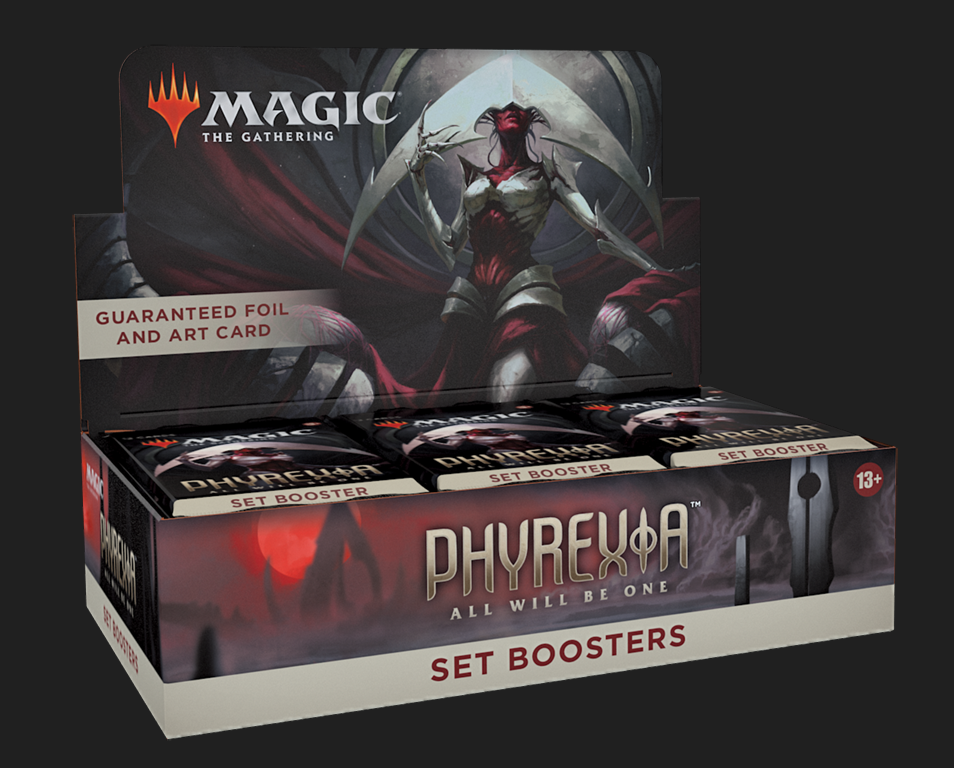 You can buy single set boosters or a "Booster Box" that contains 30 single packs. Either way, they will be very excited to open them. Here's a list of the non-unique contents for these packs.
12 Magic: The Gathering cards per booster

1–4 cards of rarity Rare or higher in every pack

A Traditional Foil card and Art Card in every pack
Build Them A Meaningful Deck
This is more of a gift for someone familiar with the game to give to someone who isn't. However, this is doable even if you know nothing about the game - More on that in a few. For now, let me elaborate on what I mean here. It doesn't have to be competitive or expensive, the goal here is to be thoughtful. What does the person like? Here's an example, my girlfriend (who has dabbled in MTG but doesn't really play) loves plants and cats. So, I would consider building her a plant or cat tribal deck with cards like Avenger of Zendikar
or Regal Caracal
.
It doesn't have to be the best deck in the world, just let them know you were thinking about them. Plus, if you're interested in having your partner play MTG with you, having a deck that reflects their interests is a great incentive to try it out.
So, you may be wondering how you're supposed to do this if you don't play the game. Well, call in some backup. Fiverr.com is a freelance website where you can have someone build you a deck around any theme, idea, and budget for as little as $5. That said, you'll still have to buy the cards but the building will be done for you.
Magic: The Gathering Art Prints
The art of MTG is phenomenal and is something many players love about the game. That said, you can buy official art prints of almost any card that you can think of. So, if you know of a card that the person you're buying for really likes (from an art standpoint or otherwise) consider buying them a print of it. I promise they'll like it and have it hanging up somewhere they can see it often.
A great place to get prints is www.originalmagicart.store. You can search for any card in the database and choose from three different sizes for each print. Furthermore, they are quite affordable at around $20 per print. Most prints are also available on playmats as well, which are equally great gifts.
Make Them Into A Magic Card
I've done this quite a few times and I have to say, everybody I've ever made into a card (MTG player or not) has loved it. There are a few things about this that are great. First, it's thoughtful and you can really show how well you know a person with what you include on their card. Next, this is completely free to do, so its great if you're on a budget.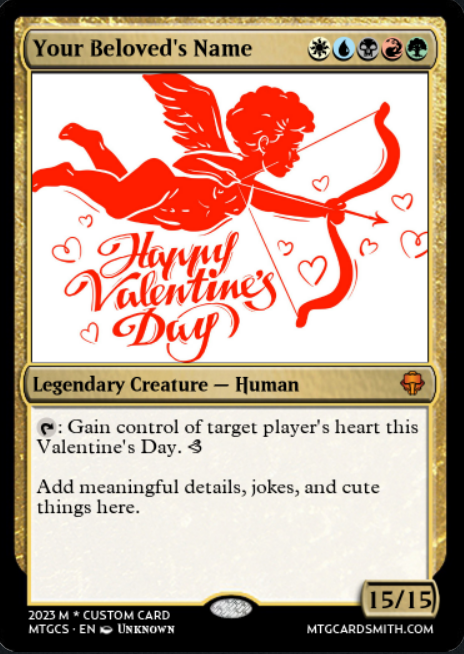 You can also print the image out, cut it to size (2.5 x 3.5 inches), and sleeve it up with a basic land behind it. Even if you don't print it, these are really thoughtful and a blast to make. There are quite a few websites where you can create custom cards but mtgcardsmith.com is my favorite and what I used for the example card above.
Conclusion
Valentine's Day flies under the radar as one of the biggest gift-giving holidays of the year. It can also be one of the harder ones to know what to give the people you care about. That said, if MTG is in the mix at all, I've got you covered. Take it from someone who loves all things Magic - Your partner will love each and every one of the things mentioned above.