Jumpstart 2022 Anime Cards Notable Picks
Spoilers Updates
With the entire card list officially spoiled, everyone can now finally asses what Jumpstart 2022 has in store for us. Nope, we're not talking about reprint price evaluations, nor are we even going to touch upon the delectable new 14 commanders that this set is about to give.
We're here for the newest anime art additions.
Specifically, we've provided a brief spoiler list looking over some of the most interesting alternate anime artwork that Jumpstart 2022 offers. Disclaimer though, this is NOT the entire alternate art card list. We just listed our choice picks for what we humbly think are the most interesting ones.
Remember, each Jumpstart pack contains 20 cards, a ready-to-play component of a deck that you will be combining with another complementary booster. You get at least one of these alternate anime art cards per pack.
WHITE
Arrest
Probably the looniest version of Arrest we've seen yet.
Balan, Wandering Knight
Well, cat (knight) girls do represent something different in the anime world.
Eidolon of Rhetoric
Not sure if we remember philosophical Theros spirits in this manner.
Emancipation Angel
Subtle enough. Both for its flavor and straightforward play.
Flicker of Fate
Yep, more cat girl spirits, less centaur ones.
Sage's Reverie
Probably not directly related to its name anymore with that art. But the effect still counts.
BLUE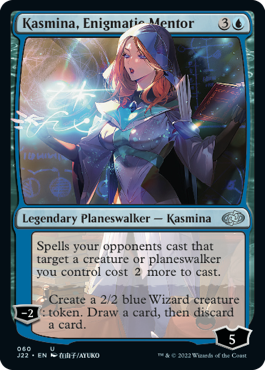 Kasmina, Enigmatic Mentor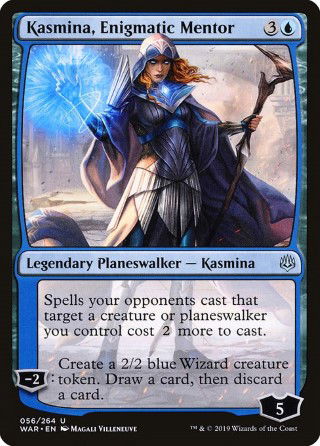 Well, at least this newer anime art version also keeps her identity completely intact like the last one.
Mirror Image
For a second we thought this was a Kamigawa-related card.
Spectral Sailor
Probably the only Flying Dutchman(?) you'll ever want to meet.
Spellstutter Sprite
Certainly missing that Celtic flavor already. But this one isn't bad.
Whirler Rogue
Looks quite a lot more "artificer" than the original "rogue" counterpart.
BLACK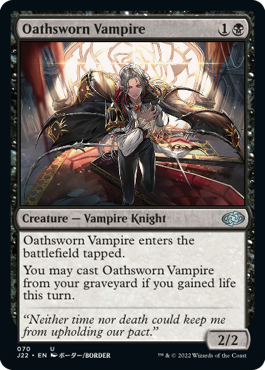 Oathsworn Vampire
To be fair, Sorin et al had already their fair share of alternate arts, but it's never a bad thing to add more.
Stitcher's Supplier
Somehow, this version seems creepier and more ominous than the M19 version.
Tragic Slip
Such a disastrous moment suddenly seems comical in this context.
RED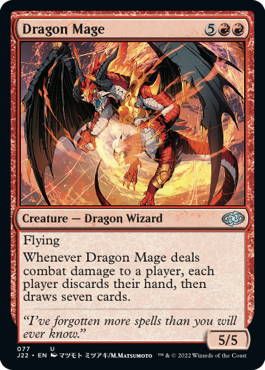 Dragon Mage
You know, this might exactly be the image kids thought for the original Scourge spoiler text list back in the day.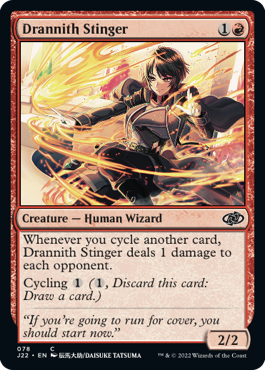 Drannith Stinger
That is… quite the direct conversion, I must say.
Rapacious Dragon
Alright, this sure does fit the dragon's descriptive name better. Are we sure this is the right genre, though?
GREEN
Arlinn, Voice of the Pack
Yup, exactly the same energy as Kasmina's alternate artworks.
Colossal Majesty
This feels more like a visual novel scene, or maybe it's just the flavor text.
World Breaker
Great. Now my thoughts of Eldrazi being Pokémon kaiju has cemented even more.
ARTIFACT
Karn Liberated
Definitely not one sad robot. Good thing Karn isn't yelling at some random cloud.
Coldsteel Heart
So that's the view when you zoom out the camera a bit more.
About ChrisCee:
A witness since the time the benevolent silver planeswalker first left Dominaria, ChrisCee has since went back and forth on a number of plane-shattering incidents to oversee the current state of the Multiverse.
"Target bird is no longer available. Please leave a message after the last bounce."