AliasV: Magic's Fastest Growing Star
Content Creator Interview
How AliasV Went From Streaming for One Person to Mythic Championship Broadcaster in Under Two Years
An Aetherhub Full Feature
By Graham Pollard
"I would rather deal with a lion than a shark personally," AliasV tells me as we sit down to discuss her life and career as a blossoming Magic superstar. The YouTuber, Streamer and Magic Caster has not even been playing Magic for two years, and is already one of the premier talents surrounding the game. She has almost 13k subscribers on YouTube, 2.3 million views on Twitch and is notably on the broadcast team for the Arena Mythic Championship events. This coming weekend, she will be in the booth once again for the much-anticipated Mythic Championship VII, where a healthier standard format has skyrocketed the hype to atmospheric levels. I wanted to sit down with Alias to learn the secrets of her incredible rise within the game, and hear how Magic's lovable cat lady will continue to grow as a household name for years to come.
AliasV grew up in Johannesburg SA, a country not known for creating Magic superstars. With the vast majority of major events and tournaments taking place in the United States or Europe, it is by nature very difficult for players to rack up tournament wins in more remote places. Heck, flying from South Africa to LA would take somewhere in the ballpark of 24 hours! As you can imagine, this remoteness can be an issue in South Africa for other professional fields as well. While moonlighting as a Magic Superstar, AliasV is also heavily involved in the film and television industry. Despite loving South Africa and all it provides (except for shark diving), Alias began to look elsewhere to further her career. "I knew kind of where my career was tracking towards in terms of Africa, and I wanted to get into a bigger pond," Alias told me. After considering several options, she and her husband eventually decided on Canada, and have been loving it ever since moving!
Johannesburg SA
Think of the work that it takes to stream full time, post to YouTube every day, and constantly travel and prepare to be on the broadcast team for a Mythic Championship. Then add another full-time job on top of that and you have AliasV. After moving to Canada, she has worked on Oscar, Emmy and Golden Globe award winning films, ranging anywhere from sitcoms, to documentaries to feature length movies. "I am definitely a workaholic," Alias tells me. "I am not very good at doing nothing." When speaking with Alias, I was amazed at how casual she was about her work ethic. A lot of people feel worn out with just one full time job, but Alias seemed to shrug it off and note she would probably get bored without the extra workload.
Although known for Magic now, she got started by streaming another card game called Gwent. She started by streaming the game from the PlayStation built in stream functionality and loved interacting with the "one or two people" that would stop by to check it out. Interestingly though, she really took her streaming up a notch after her husband had taken given up at it. Although streaming didn't end up being successful for him, he had bought all the equipment and had a suitable setup which allowed Alias to give it a go! After not breaking any of her husband's equipment (There was a running joke between them that she would probably break everything), she built a decent following streaming Gwent and formed good relationships with the developers. Unfortunately though, she got to the point where the game was becoming a little stale. There was a stagnant period where the devs were working on a complete overhaul, so during that no updates were pushed out. As anyone would, she began to grow a little frustrated. However, at this time the Arena closed beta was released. She had garnered enough notoriety from her Gwent streaming that a Wizards representative reached out to her and encouraged her to get involved, and the rest is history.
When she first picked up Magic, she had absolutely no idea how to play. She joked that she learned the rules from Twitch chat, and we all know how friendly Twitch can get if a streamer makes a mistake or a misplay. Twitch chat certainly taught her well though, as her first game of Magic was in March of 2018, and she casted her first Mythic Championship in March 2019. Receiving tutelage from Rich Hagon and Paul Cheon, she got to learn from the best in the business. "One of the hardest parts for me was learning what not to say; teaching myself not to swear. This was pretty hard for me since I swear like a trooper," Alias jokes. She especially credits Paul Cheon for working with her a ton behind the scenes to upskill her, improve her cadence and giving continued feedback every step of the way.
While she initially didn't know who her broadcast partner would be, she ended up getting paired with former pro player and current editor and manager of coverage for Star City Games Cedric Phillips. The two have a slight contrast in personalities that ends up working very well together during a broadcast and she was fervent in her praise of Cedric. "I'm pretty sure he could be play by play and expert at the same time, he is just that good," Alias describes of him. Getting paired with somebody you do not know for a broadcast can be difficult, and it can take time to build chemistry. Although they always got along, Alias noted how they have shown significant improvement every single event. Mythic Championship VII will be their 3rd event together, and the duo are beginning to really hit their stride. Unfortunately, Cedric was a source of controversy in the Magic community this last week, after Star City Games fired contributor Tom Ross.
Mental health is an extremely pressing and important issue in the Magic community and society as a whole, and Tom Ross released a statement on Reddit expressing how his mental health was at a low point and it was affecting his job. It was implied in his statement and other social media reaction that Star City Games did not support him in a rough time, and made his mental situation worse by firing him. In his statement Tom brought up Cedric's name, which resulted in a lot of negative reaction targeted in Cedric's direction.
"I was cut abruptly without warning yesterday. I have talked with Cedric Phillips (The content coordinator), and have emailed Pete Hoefling, the president of Star City Games. The messages between Cedric have been met with expected coldness and pushback." – Tom Ross
While the focus of this article is on AliasV, I felt I would not be doing my job as a reporter if I didn't ask her about this situation since it is was one the biggest stories in the Magic community that week and directly implicated her broadcast partner. Alias expressed sympathy for Cedric and said that she hopes the story blows over soon. It was great to see that she offered him her support, and in general broadcasters who go through some difficult situations and stick together tend to have a better connection in the booth. In the days since the Tom Ross statement it seems like public sentiment has shifted back in Cedric's favor a little too, with Tom Ross himself issuing a tweet several days after his reddit post saying "Please don't attack Cedric Phillips, he was just doing his job and I take responsibility." I am really hoping this type of controversy will not affect the tournament, as the focus should be on growing the game in a positive way by promoting the players and showing how high-level magic can be an exciting and riveting event. Cedric and Alias's coverage rises to the moment on every occasion, and I am extremely confident they will crush it this upcoming weekend!
I asked Alias what some of her favorite moments broadcasting were, and how she thinks Wizards can continue improving the events. Although she acknowledges this may not happened right away, she said she really hopes Mythic Championships can start attracting a live audience. For the Arena Mythic Championship at PAX there was actually a decent live audience during the top 8. Magic is a game that can build up to big moments, and those moments are heightened even more when there is a palpable buzz in the venue. "The electricity in the air from the crowd on the final day when we were in the PAX arena, when people did stupidly crazy plays and everybody cheered. Dude it was so cool. That was the coolest feeling ever. I'm actually getting goosebumps thinking of it now" Alias tells me. All the players wear noise cancelling earmuffs to mitigate the unfairness of someone in the crowd yelling out a card in someone's hand, so the infrastructure is in place to start packing houses if the fan interest is there. This was the point in my conversation with Alias that I felt the most passion. I could feel how much the extra intensity mattered to her, and how excited she was at the potential for more of that in the future. Imagine Madison Square Garden jam packed for a Sunday top 8!! While Magic has not quite reached that stage yet, filling up smaller venues with a live audience might be one step to get there. It must be so exhilarating to cast an event you know is a big deal, and I hope Alias is on the mic for more huge moments in the future.
We also talked about if she ever got the urge to start the competitive grind. After all, Cedric is a former professional player and she is surrounded by pros during the tournaments she broadcasts. Although she would absolutely love to, she unfortunately is just too busy to keep up with the consistent grind of playing in tournaments. She does however attend FNM events or other tournaments at local game stores, and has picked up a win before, so maybe you will see her out there! She does however play a ton of arena obviously, and when I put her on the spot for predicting what deck will win Mythic Championship VII, after thinking about it for a little bit, she said she is going with Aggro! "If you are not playing the cat deck you are trying to play something that goes over it as quick as you can. I think we may see another Javier Dominguez special or something." Predicting a Magic Tournament is no easy feat (my last two top 8 predictions have been awful), but if Alias nails it she should get a lot of credit.
Lastly, you can not talk about AliasV without talking about her love for cats. If you have ever watched her stream or her videos, you know she is a big cat person. Therefore, it was especially cool for her when she got to unbox the special cute cat edition of the Secret Lair package. "I squealed when I saw the cat cards. I think they are so cute. I think I got the best Secret Lair of them all," Alias proclaimed! It is pretty cool that Wizards provides content that can excite some of its fans like this, and if you are a cat person like Alias you also may want to check the drop out!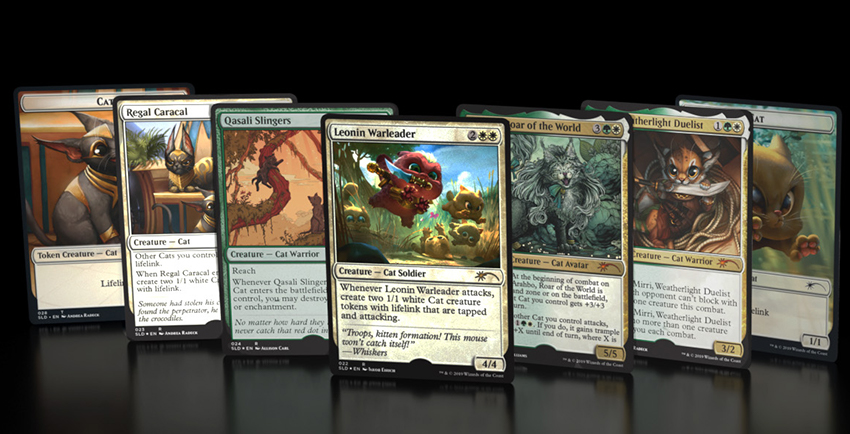 If you tune into Mythic Championship VII this weekend, pay particular attention to how much Alias and Cedric have improved as a broadcast team, and maybe send some applause emoji's in the chat to let them know that while there may not be a live audience, the audience at home is getting fired up. It should be an unbelievable event, and the hype is just beginning. Check into Aetherhub throughout the week for more pre-tourney coverage, and make sure to be tuning in this weekend for to see the best Magic has to offer!
You can follow Alias V on all these platforms here:
Twitter:https://twitter.com/col_aliasv?lang=en
YouTube: https://www.youtube.com/channel/UCW8G9RUYzzepznBq5Cn_3Bg/featured?pbjreload=10
Twitch: https://www.twitch.tv/aliasv