Top 10 Best Dinosaurs In Magic: The Gathering
Genoslugcs
October 22, 2023
9 min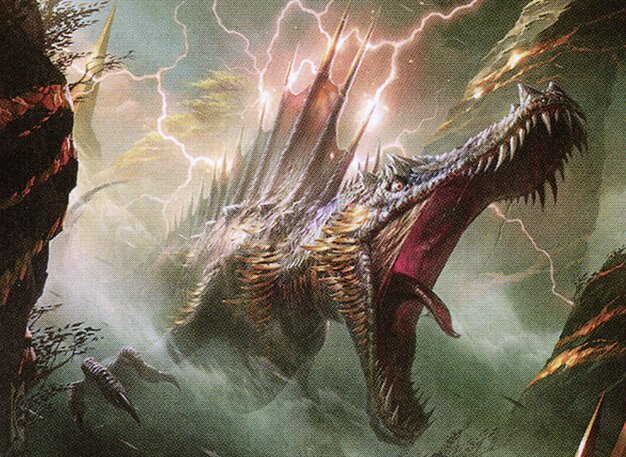 There are many popular creature types to build around in MTG, and Dinosaurs are near the top. From ferocious behemoths to agile predators, these prehistoric beasts have captured the hearts of many a player in various formats. With Lost Caverns of Ixalan and the Jurrasic Park cards right around the corner, what better time to look at the best dinosaurs in MTG?
We'll look at the best dinosaur creatures throughout the game's history, what makes them good, the downsides that stop them from getting the number one spot, and which formats I recommend you play them in. So, without further ado, let's get straight into the list with an honorable mention.
Top 11 Best Dinosaurs In Magic: The Gathering
Honorable Mention - Thrashing Brontodon
Thrashing Brontodon is one of the most playable Dinosaurs in the game. However, it's much more of a support card, so I'm giving it an honorable mention. A three-mana 3/4 that can remove artifacts and enchantments has all the playability in the world and is a phenomenal rate, and if I were to add it to the actual list, it would get a high spot.
In fact, according to Nizzahon Magic, it has more Top 8 appearances in competitive Magic than any other dinosaur card. Pair this with the fact that it's also excellent in EDH, and, as I said, you've got all the playability in the world. Still, it seems a bit strange to give it the number-one spot, so it's here instead. But know, it's a great card due to its versatility.
11. Carnage Tyrant
If you played Standard back in 2018, you'll remember Carnage Tyrant. It was a key card in dealing with the control decks of the meta because it couldn't be countered and was hexproof. So, you can always count on this resolving and be pretty confident it'll stay on board once it does. It's hard for opponents to interact with on the stack or the board, and it generally makes their life hard when you cast it.
On top of that, if they can't find some way to answer it, they've got problems because it's a significant threat. A 7/6 can end the game in just a few attacks, and considering it has trample, chump blocking often isn't enough. Carnage Tyrant is an appropriate name for the card, for sure. It's a problem and only gets better with other dino synergies.
Recommended Formats:
Casual
Commander
Standard (If it's ever reprinted)
10. Regisaur Alpha
Speaking of "dino synergies" above, we have Regisaur Alpha
at number nine, which certainly fits that bill! First, it gives all other dinosaurs you control haste, which is nasty. Most dinosaurs are pretty beefy and have high mana value, so using them without having to pray you untap with them next turn is huge.
Next, it creates a 3/3 dinosaur with trample when it enters the battlefield, which it gives haste. So, you're getting a total of seven power and toughness (three of which will have trample and haste) for five mana. And giving all your subsequent dinosaur creatures haste as well. Overall, it is an excellent return on investment and a strong card.
Recommended Formats:
Casual
Pioneer
Modern
Commander
9. Shifting Ceratops
Shifting Ceratops, much like our number 10 card, really hates on control decks and blue in general. Not only can it not be countered, but it also has protection from blue. Granted, blue decks that splash other colors can have outs to this, but still, protection is nothing to scoff at - Remember that this means blue creatures can't block it, too.
With a solid 5/4 stat line, the Ceratops is big enough to demand an answer if/when it hits the board. And then for a single green mana you can give it haste, trample, or reach for a turn, all of which have their value at times and further add to the reasons to play the card. This is especially true in metas, where you deal with many blue decks and makes the card a sideboard favorite in many formats.
Recommended Formats:
Casual
Pioneer
Historic
Legacy
Commander
8. Gishath, Sun's Avatar
Gishath is a powerhouse card and one of the most popular dinosaur commanders for the tribe. It cost eight mana, but it's a 7/6 with vigilance, trample, and haste. So, as soon as this resolves, you can smash some face with it and still have it up to block on subsequent turns. The trample almost guarantees you'll damage an opponent when you attack. And when you do, things really get out of hand.
When Gishath deals combat damage to a player, you get to reveal that many cards from the top of your library and put any number of dinosaurs amongst them directly into play. Assuming you've built your deck around the creature type, you usually won't have problems putting at least a few cards into play for free. Not only is it powerful, but it's a lot of fun to play too.
The only downside is that it's a $40 card. So, if you don't already happen to have a copy, it can be a pretty expensive commander deck to build for casual players. That said, there's a chance it gets reprinted in Lost Caverns of Ixalan.
Recommended Formats:
7. Ghalta, Primal Hunger
Ghalta, Primal Hunger
If you like dinosaur cards, you've got to love Ghalta, Primal Hunger. It's a massive 12/12 creature, and if everything goes according to plan, it'll only cost you a few mana to cast. The only catch is you have to already have a decent bit of power and toughness in play. Luckily, that's not a problem for green.
You could build this as a devoted dino deck with things like Gigantosaurus
and Topiary Stomper
, but usually, there's a fair amount of off-tribe creatures as well. For example, Llanowar Tribe
, Goreclaw, Terror of Qal Sisma
, Steel Leaf Champion
, and the like make the most of Ghalta's ability to reduce her cost.
Considering the cost reduction can reduce any commander tax built up Ghalta, you can reliably cast the 12/12 for very little mana in EDH, assuming you keep creatures on board. Like Gishath, Sun's Avatar
, Ghalta is powerful and fun to play. And unlike Gishath, Ghalta can be built for reasonably cheap.
Recommended Formats:
6. Etali, Primal Conqueror
Etali, Primal Conqueror is the newest card on the list, having just come out in March of the Machine. However, despite being new, it's making plenty of waves and proving it deserves a spot on the best dinosaur cards lists. Its power comes mainly from its enter the battlefield trigger.
When it enters the battlefield, assuming you've cast it, each player (including yourself) exiles cards from the top of their library until they exile a non-land card, and you can cast them all for free! So, in a 1v1 game, casting this means you're guaranteed a three-for-one situation. Then, aside from all that value, your opponent is staring down a 7/7 with trample, plus whatever else you've cast for free.
Recommended Formats:
Casual
Standard
Commander
5. Rotting Regisaur
Rotting Regisaur is a 7/6 for only three mana! This is a ridiculous amount of power and toughness for three mana. So, what's the catch? Well, you've got to discard a card at the beginning of each of your upkeep. The only catch to this "downside" is that discarding a card for free each turn benefits many decks, making this a three-mana 7/6 with upside.
For example, discarding easily recurred creatures, such as Gutterbones
, easily pays the cost. In Pioneer, it enables a powerful combo-esque deck where you discard Parhelion II
to your dino and use Greasefang, Okiba Boss
to cheat it into play. It's even seen play in more powerful like Modern and Legacy, where the free discard outlet enables things like Dredge and reanimating Griselbrand
.
All of this incidental value comes on top of the insanely efficient body that can beat opponents down while you assemble your combo of choice. That said, this doesn't usually see play in devoted dino builds... But you could brew up a dinosaur reanimator deck for sure!
Recommended Formats:
Pioneer
Modern
Legacy
Commander
4. Zacama, Primal Calamity
As a 9/9 for nine mana, Zacama is definitely expensive to cast. However, when you do cast it, you'll get to untap all of your lands! Free 9/9s are good, especially when they have the abilities that Zacama does. You can deal three damage to a creature for two and a red. Destroy an artifact or enchantment for two and a green. Or gain three life for two and a white.
Considering you've just cast your Zacama, you can bet you'll have nine mana worth of lands in play, which means you could activate any of the three, up to three times, colored mana permitting. This often sees play in Pioneer decks alongside Lotus Field
.
Not only does untapping your Lotus Field ramp you into Zacama quickly, but it works well when you untap all of your lands as well. Usually, it's kept in the sideboard and grabbed with Mastermind's Acquisition
or Fae of Wishes
. And regardless of its many abilities and untapping all your land, it has a massive body and trample, reach, and vigilance to bolster its attacking power.
Recommended Formats:
3. Keruga, the Macrosage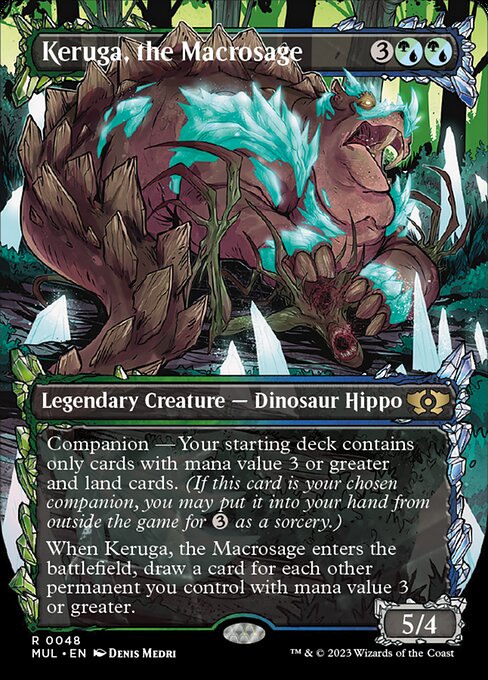 Keruga, the Macrosage has companion; An ability that proved so strong that the entire ability had to be nerfed. And several other companions still needed to be banned in various formats. In the case of Keruga, the companion requirement is that your starting deck contains only cards with a mana value of three or greater and lands. If your deck meets this requirement, you may put it into your hand from outside the game for three mana.
This essentially means you start each game with an eight-card hand. Because similar to a commander in EDH, you can always count on having it available without having to draw it, which is very powerful. Then, when Keruga enters the battlefield, draw a card for each other permanent you control with a mana value of three or greater, which will be all of them.
The card is particularly good in decks that meet the stipulation without trying very hard. For example, Fires of Invention
in Pioneer has a naturally high curve that allows the deck to run Keruga for free. The same is true of Modern Elements deck that plays Fury
, Solitude
, and the like.
While none of the competitive success has to do with it being a dinosaur, you could undoubtedly satisfy the companion requirement with a dino build since they have a naturally high mana value for the most part.
Recommended Formats:
2. Etali, Primal Storm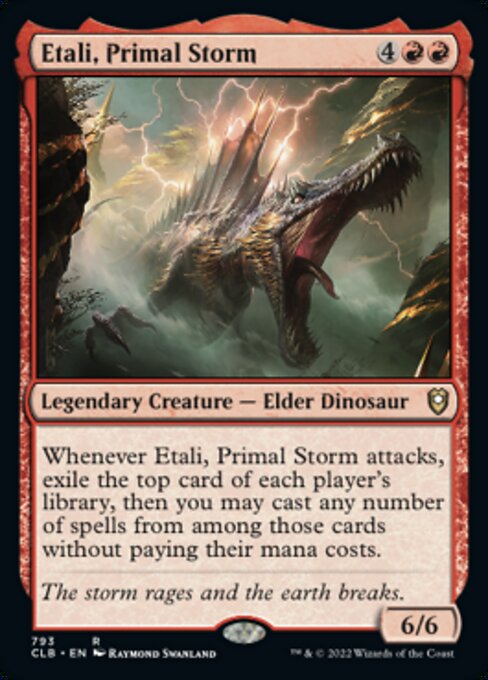 If you're playing dinosaurs in Commander (and sometimes even if you're simply in red), Etali, Primal Storm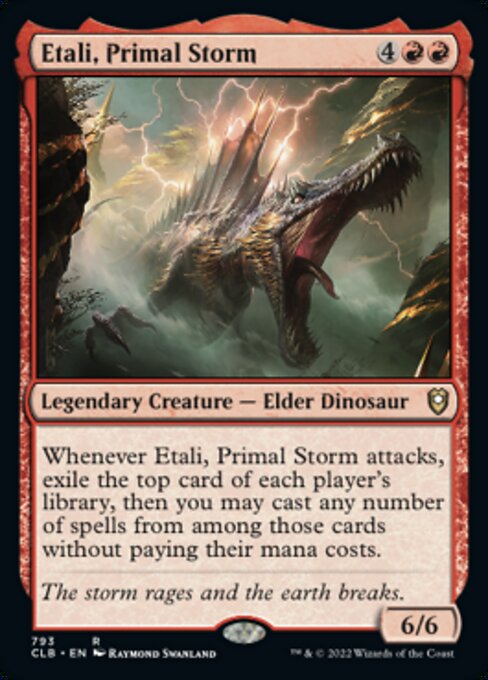 is a card you'll no doubt want in your deck. Whenever it attacks, you'll exile the top card of each player's library, and you can play any number of the cards for free. So, in a game of regular commander, with all of your opponents in the game, you could be casting four cards for free, including the one from your deck.
What's incredible about this is that it's not a damage trigger, so you don't have to worry about blockers and things. Just turn it sideways, and you get free cards, sometimes a few, sometimes several. Playing Etali as your commander gives you even more chances to trigger his ability and go crazy. Not to mention, whoever you're swinging at still has a 6/6 to deal with.
In my experience, this is a must-answer card. Opponents cannot allow Etali to sit on the battlefield unopposed and attack, or they'll quickly find themselves losing. To me, that's what a dinosaur card should be: a presence, unignorable, demanding attention, and Etali is all of those things.
Recommended Formats:
1. Rampaging Ferocidon
Number one, at last. Rampaging Ferocidon is my top pick for the best dinosaur creature in MTG. Simply put, the card is oppressive. At the same time, it's very aggressive, which led to it being banned from Standard. As a three-mana 3/3 with menace, the Ferocidon already has great attacking stats. However, it also pings players whenever a creature enters the battlefield, further adding to its ability to wreck opposing life totals.
And the cherry on top (and the genuinely problematic portion) was that it stopped players from gaining life. Gaining life (and putting out blockers) are two of the most surefire ways to deal with aggro decks, and the Ferocidon puts the breaks on both, leaving opponents rather helpless.
Not to mention, "players can't gain life" is when it isn't stapled onto an evasive beater that pings for extra damage. There are whole decks that can be more or less shut down by that portion of text alone. As I mentioned, it was banned from the standard of its day, but it's powerful enough to succeed in competitive Pioneer aggro builds.
If you've never seen the card in action and are interested in playing dinosaurs, sleeve this up, and you won't regret it.
Recommended Formats:
Conclusion
There you have it, my friends, the Top 11 best dinosaur cards in MTG. I had to do 11 because it's dinosaurs, and you go big or go home where dinosaurs are concerned. I'm excited to see what new additions to this list we get in our upcoming return to Ixalan. Perhaps, this time next year, it'll look completely different.
Now, I have a few questions: What did you think of my list? Did I leave any essential dinos off? What would you have put at number one? Comment and let me know! Until next time, take care.