Wizards has released it's monthly MTGA State of the Game. You can check out the announcement here, but we will go over it and add some commentary!
Jumpstart Release
Jumpstart is releasing on July 16th and will currently only be available as an event.
Available: July 16 – August 16
Entry Fee: 2,000 gold or 400 Gems
Event Record: Play as much as you like!
Rewards:
2nd Win: 1 Jumpstart rare individual card reward (ICR)
1st Win: 1 Jumpstart rare ICR
Additional details can be found in our dedicated Jumpstart article, so we encourage you to meander over there for more info.
Players will be able to pick their packs. MTGA will given 3 options to pick per pack, so you do have some control over what packs you will get.
Some things to note is that players currently cannot buy individual Jumpstart boosters from the store, but the entry fee of 2k is the same cost as buying 2 boosters from the store. Yes, this means that there won't be duplicate protection because this is an event, but the event gives you 2 rare ICRs. The awesome part about this event is that you can play with the same deck for as long as you want, so those 2 rare ICRs are guaranteed. If you want a new deck, just Resign from the event and join again.
Another thing of note is that, currently, the Jumpstart basics CANNOT be crated and must be obtained through opening packs in the event. So if you want that sweet Phyrexian Swamp, you'll have to hope to get lucky and get that pack.
Arena Open: Historic
The Arena Open is returning, but will now be running the Historic format. Players will have a choice to win cash if they do well in this two-day event.
Day 1
Start: August 1, 2020 at 8 a.m. PT
Signups End: August 1, 2020 at 4 a.m. PT—you'll still have a few hours to complete your current run, but you won't be able to join after this deadline.
Day 1 End: August 2, 2020 at 7 a.m. PT
Format: Best-of-One Historic Constructed with Match Clock
Entry Reward
In addition to the prizes outlined above, every participant will receive card styles for five new-to-Historic cards through Jumpstart. Just as before, these special rewards will unlock as soon as you join the event, so you'll be able to use them during your matches:
Isamaru, Hound of Konda
card style
Kira, Great Glass-Spinner
card style
Languish
card style
Grim Lavamancer
card style
Thragtusk
card style

Day 1 Prizes
Event Record: 7 wins or 3 Losses (whichever comes first)
7 Wins: 2,000 Gems, Qualification for Day 2
6 Wins: 1,600 Gems
5 Wins: 1,200 Gems
4 Wins: 800 Gems
3 Wins: 400 Gems
0–2 Wins: No Reward
Entry Fee: 20,000 Gold or 4,000 Gems
Day 2
Start: August 2, 2020 at 8 a.m. PT
Signups End: August 2, 2020 at 10 a.m. PT—you'll have until the event ends to complete your matches, but you must join during this two-hour window.
Event End: May 2, 6 p.m. PT
Format: Best-of-Three Historic Constructed
Day 2 will consist of Best-of-Three Standard Constructed matches. Again, you'll play until seven wins or two losses (whichever comes first), but unlike Day 1, you'll only have one opportunity to compete. Once you complete your Day 2 matches—that's it! You'll receive rewards based on your event record, culminating with $2,000 USD if you manage to earn seven wins.
Day 2 Prizes
Event Record: 7 wins or 2 Losses (whichever comes first)
7 Wins: $2,000 USD Zendikar Rising Qualifier Weekend Eligibility
6 Wins: $1,000 USD Zendikar Rising Qualifier Weekend Eligibility
5 Wins: 20,000 Gems, Zendikar Rising Qualifier Weekend Eligibility
4 Wins: 10,000 Gems
3 Wins: 6,000 Gems
2 Wins: 4,000 Gems
1 Win: 2,000 Gems
0 Wins: No Reward
Entry Fee: None—previous qualification from Day 1 required.
In terms of rewards, if you don't think you can make Day 2, there is very little incentive to sign up for this event as you need to, not only go 7-X in Day 1, but also get at least 1 win in Day 2, to even get your gems back. There are card styles as well, but I don't attach any value to those, especially if you don't play with those cards.
Running the Arena Open as Historic is great though as it allows Wizards to showcase the Historic format, which I enjoy a lot more compared to Standard.
FNM @ Home: Historic All Access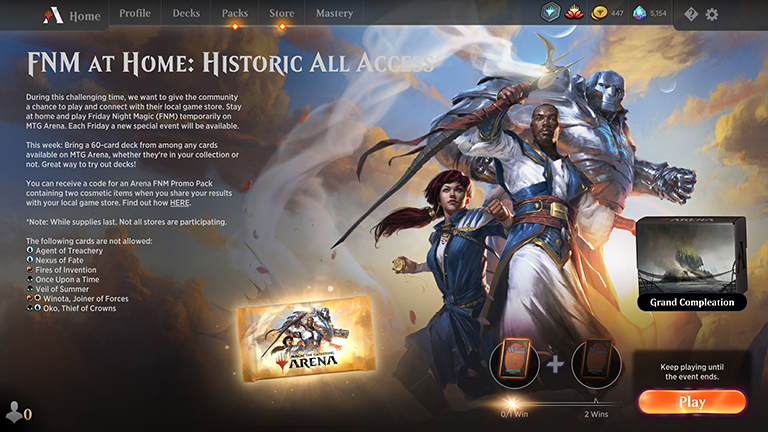 This event will run on July 24th. Players will be allowed to build decks using ALL Historics, regardless if they have or do not have the cards in their collection. This event is a great way to practice for the Arena Open and fine-tune decklists or for new players to try out Historic at no cost!
Premier Draft: Dominaria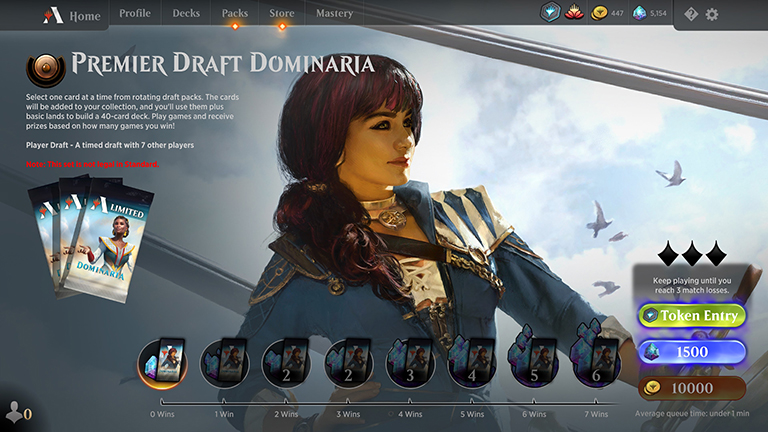 From July 31 until August 14, Dominaria Draft returns to MTG Arena with fewer bots and more Teferi players to draft against!
P.S. For those of you who've been asking about Throne of Eldraine drafts . . . yep, you guessed it. Throne of Eldraine Premier Draft will be available July 24 through July 31.
Core Set 2021 Festival of Time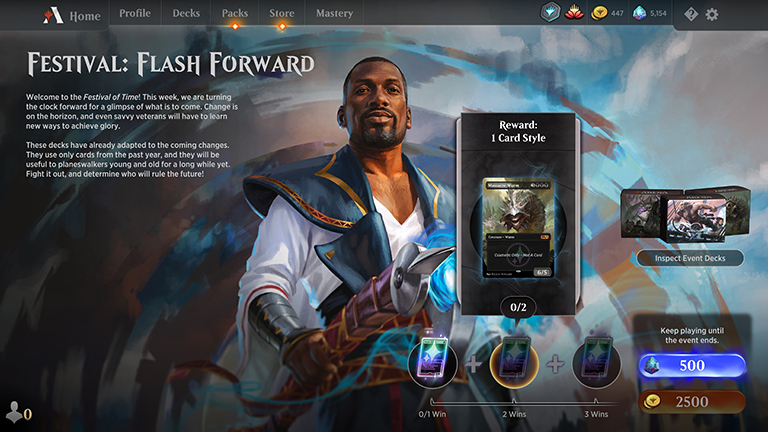 This Festival event, starting on August 8th, is Historic 100-card Singleton. This is basically EDH, but of course, without the Commanders, which actually makes a huge difference. Get ready to play against Rat Colony
and Persistent Petitioners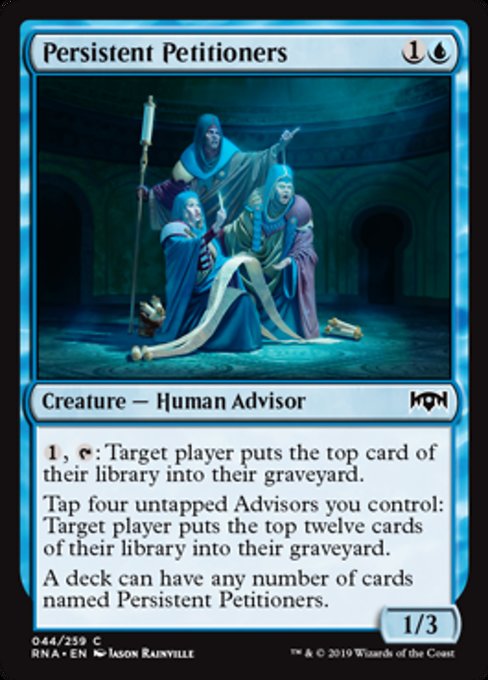 decks. I expect to see Pack Rat
and Bruvac the Grandiloquent
added to those decks though.
Farewell, Workshops
Wizards is shelving Workshop events since there are now dedicated Brawl and Historic queues in addition to Jumpstart and the weekly FNM events. Workshops were supposed to be low barrier queues, but there now other avenues to play. I'm a little bummed about Workshops going away because they were fun events where you didn't really have to worry about being on uneven playing levels.
Developer Roadmap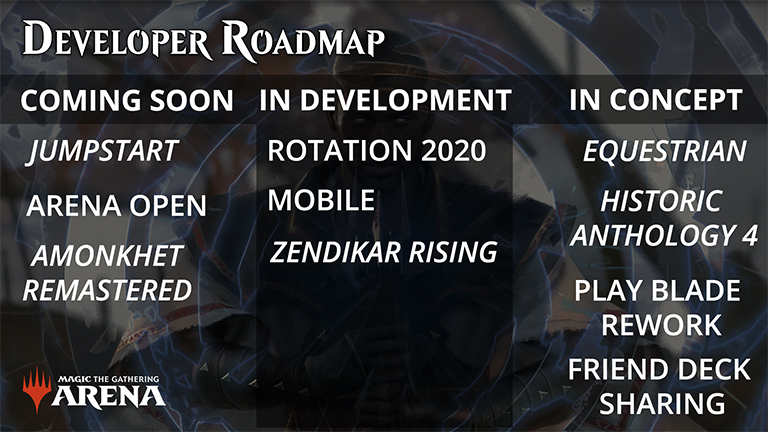 Amonkhet Remastered – August 13, 2020

This is the first Remastered set for MTGA and it will bring cards from both Amonkhet and Hour of Devastation. The combined card count from across these two sets has landed at around 340 cards, with a focus on the Limited play experience (Draft and Sealed), Pioneer, and continued support for Historic.
We hope you're ready to rise among the worthy, once again! Amonkhet Remastered is currently planned for August 13, and you should expect to hear more about our plan to unleash the endgame on August 6!
I personally am a big fan of the Amonkhet Limited format since it was so aggressive. Hour of Devastation slowed the format down, but it was still very fun. I imagine the Amonkhet Remastered Limited environment will be very similar to the Hour of Devastation Limited environment. The question remains on whether or not The Scarab God
will be as format-defining as it was back in Standard.
Pioneer Masters – Q4
We've danced around this one a little bit, so let's just come out and say it—the next Pioneer-focused set remaster will be a Pioneer Masters set. Like the Modern Masters tabletop product, this digital card set will be looking at all the sets currently legal in Pioneer and pulling them together into a single set for both Limited and Constructed play. Players should expect our first (but likely not the last) Pioneer Masters set by the end of 2020.
This set will, of course, not bring ALL Pioneer legal cards to MTGA. I'm a little hesitant, as a result, to say that Pioneer is coming to MTGA since the format will not be the same unless ALL the cards are brought over. Of course, with the current condition of the meta, this might be a good thing. Time will tell.
Historic Anthology 4 – Early 2021
In addition to our Pioneer-focused masters and remasters, Historic will continue to receive our love and support. Players should expect another Historic-focused card drop in the first part of 2021.
The final bit of news is definitely a welcome one. Historic Anthologies always bring fun new toys to play with, even if they won't show up in the top tier decks like Historic Anthology 3 did.
The next month for MTGA is looking exciting, particularly if you are an avid follower of Historic! Let me know your thoughts below.
About Kagros:
Aether Hub News Team member. Writing thoughts on Magic news and fun gameplay!