Decks to bring to the Brawlers Guildhall Free event March
Brawl Decklists
Wizards just announced that the Brawl Guildhall event will have no entry fee, it starts March 19th and ends April 16th. In addition, THB ranked drafts will be available in the same time frame in addition to their regular bi-weekly rotating Draft event. Original forum post here.
Seems like Wizards have heard its users as this has been a hot topic these last days over at the /r/MagicArena subreddit.
What to play?
The fun thing about Brawl and the Commander format is taking one of your favorite Legendaries or planeswalkers and building around them. The Deck Hub contains a lot of different decks from users where you can get inspiration for your own deck. We also have a metagame summary page of all the decks on the Meta Hub. In this article, we take a look at the 12 most popular Brawl Commanders right now and pick our favorite decklist.
If you want to easily compare these meta decks to your current MTGA Collection, we recently added the option in our deck extension to compare all AetherHub decks to your collection, quick install and no login required: MTGAassistant.net.
Here is the 12 most popular decks as of right now:
Enhancing all ETB triggers is a very strong strategy when there are so many good cards in the meta to use, Hydroid Krasis
, Risen Reef
, Uro, Titan of Nature's Wrath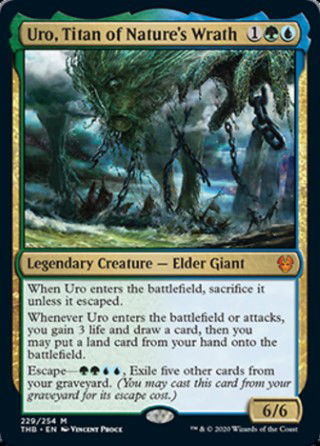 all come to mind as very playable cards. We picked out this deck from devil666, which includes all the value cards available. Yarok, the Desecrated Meta Summary
Quite powerful for being a small fairy with a nice +1/+0 ability, you would think that she only boosts other fairies, but no, all flying creatures get this bonus. Take into account that she also create 1/1 fliers every time you cast one of your artifacts or enchantment spells, her game will really topple kingdoms. fireonice91 has one of the most popular Brawl decks right now featuring Alela. Alela, Artful Provocateur Meta Summary
The gods are quite hard to interact with, it does not help your opponent that Athreos slowly makes all your creatures hard to get rid of. Even exiling them does not help, combine that with some powerful ETB effects and you have a winner. Covertgoblue a popular content creator and streamer has built an awesome deck featuring this commander. Athreos, Shroud-Veiled Meta Summary
If you like playing Rakdos sacrifice, Korvold is the Commander for you. Not only do you get to sacrifice any permanent on your board and not only creatures but you also get to replenish that permanent by drawing a new card. There are several newer decks to choose from but our favorite here is still RandallFlagg's deck. Korvold, Fae-Cursed King Meta Summary